Toshiba Laptop Motherboard Repair
Welcome to Creative IT for economic, professional, and quick Toshiba laptop motherboard repair services.
Who are we at Creative IT?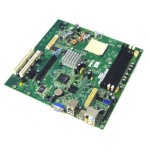 Creative IT is a Toshiba laptop repair centre with over 15 years of experience in the laptop and notebook repair industry. Centrally located in London, we serve both residential and commercial clients across the UK, with an exceptional team of proficient component level engineers and trained technicians for all kinds of laptop repair services including motherboard problems.
What we offer as a part of Toshiba laptop motherboard repair services?
Among the services included in our motherboard and component level repair services for Toshiba Qosmio, Toshiba Satellite, Toshiba Satellite Pro, Toshiba Portege and Toshiba Tecra laptop models are:
Troubleshooting bad IC components on the motherboard
Comprehensive motherboard circuit check-up
Replacing defective capacitors, diodes and chips
Internal and external laptop cleaning
Final laptop test as well as diagnostics
Apart from these, we also specialize in Toshiba laptop motherboard replacement services, as we stock a full range of laptop spare parts including motherboards.
How much does it cost to repair a Toshiba laptop motherboard?
We charge £135 plus vat to repair defective Toshiba laptop motherboards.
What is the turnaround time?
We mostly complete all kinds of laptop repair job the very same day of the receipt of your laptop. There are also instances in which we return your laptop repaired while you wait. However, if your laptop's motherboard problems are complex, then it may sometimes take two days to return your laptop.
Is warranty available on a Toshiba laptop motherboard repair?
We offer a three month warranty on every laptop repair and new laptop spare parts supplied. All warranties are back to base.
How to get in touch with us?
We can be easily reached on our customer support number 020 7237 6805. You can also send us an email us to info@creativeit.net, if you have any question on our specialist London Toshiba laptop motherboard repair and replacement services. If you want us to arrange secure pick-up and delivery services, let us know; we will do it. We are open Monday through Saturday from 09:00 to 18:00 hrs.
Toshiba Satellite Models
Toshiba Qosmio Models
Toshiba Satellite Pro Models
Toshiba Tecra Models
Toshiba Portégé Models
Toshiba Mini Notebook Series