IBM ThinkPad T60 series repair
Creative IT provides expert IBM ThinkPad T60 series repair in London and all over the UK. Thanks to its dedicated team of expert laptop technicians and to its latest computer maintenance and support equipment, Creative IT is one of the leading laptop repair centers in London.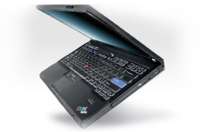 The IBM ThinkPad T60 series, which includes the ThinkPad T61, the ThinkPad T61p, ThinkPad T60 and the ThinkPad T60p,  is a very robust laptop line like all IBM laptops. Nevertheless, there are a number of issues that can affect the reliability of these laptops, including overheating, viruses or accidental damage.
IBM ThinkPad support services
Creative IT has years of experience in IBM support services and can provide all IBM ThinkPad T60 users with the following IT services and many more others:
IBM ThinkPad T60 LCD screen replacement
IBM ThinkPad T60 backlight replacement
IBM ThinkPad T60 Inverter replacement
IBM ThinkPad T60 keyboard repair and replacement
IBM ThinkPad T60 CD/DVD Rom repair and replacement
IBM ThinkPad T60 power jack repair and replacement
IBM ThinkPad T60 hard drive replacement
IBM ThinkPad T60 RAM memory upgrade
IBM ThinkPad T60 motherboard repair and replacement
IBM ThinkPad T60 graphics card repair
Creative IT is also specialised in data recovery from damaged, failed or corrupted IBM ThinkPad hard drives. Our services include IBM ThinkPad T60 physical data recovery, data recovery from operating system failure and recovery from deleted files.
Creative IT has a large stock inventory of original IBM ThinkPad T60 spare parts including ThinkPad power supplies, ThinkPad hard drives, ThinkPad LCD screens, ThinkPad keyboards, ThinkPad fans, ThinkPad power jacks, ThinkPad motherboards. We also supply RAM for ThinkPad T60 memory upgrades.
Creative IT can also fix all software related technical failures on ThinkPad T60 including Windows corruption, Windows installation, antivirus installation, spyware and malware removal and virus removal.
Same day IBM ThinkPad T60 repair
All Creative IT's IBM ThinkPad T60 series repair services are carried out in-house on a same day basis. Customers located outside London can send their laptop or get a courier collection and delivery organized by our customer service team.
All IBM repairs are guaranteed and are carried out with fast turn-around. For more information on how Creative IT can help you with your IBM ThinkPad T60 series laptop, call 020 7237 6805 or email us at info@creativeit.net . Our lines are open Monday to Saturday from 09:00 until 18:00. If lines are busy, please call back.