Sony VGN-FW Series Repair
Need a fast and professional
Sony VGN-FW series repair
service? Did your Sony laptop's hard drive crash while doing something important? Is your laptop attacked by a malicious virus due to which the performance is sluggish? Do you get error messages when you start your laptop? Relax! Whatever problem your laptop experiences, we at Creative IT can get it covered. All you need to do is to just let us know your laptop computer problems and notice how our highly proficient
Sony laptop repair
team fixes your defective laptop and have you up and running in no time.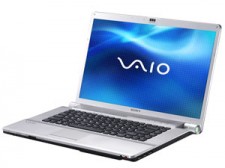 Creative IT provides laptop repair and upgrade services for clients across the UK from our physical location based in Central London. We will come to you to pick up your laptop to fix it and give it back to you within 24 to 48 hrs, all for an affordable flat rate. But if you reside in and around London, you can even drop in your out of order laptop to us in person and take advantage of our "while you wait" service.
Listed below is an overview of services that we make available for your Sony VGN-FW series repair needs: 
LED / LCD screen replacement
Memory (RAM) upgrade and replacement 
DC power jack repair and replacement
Power supply repair and replacement 
Adware and Spyware removal
Installation of the latest antivirus 
Fixing Internet / Email / networking problems
Data recovery and transfer 
Keyboard repair and replacement
Troubleshooting graphic card problems
Backlight Repair and Invertor Repair
We troubleshoot and repair all models of the Sony VGN-FW laptop series including VGN-FW11E, VGN-FW11ER, VGN-FW11J, VGN-FW11L, VGN-FW11LR, VGN-FW11M, VGN-FW11MR, VGN-FW11S, VGN-FW11SR, VGN-FW11ZRU, VGN-FW11ZU, VGN-FW21E, VGN-FW21ER, VGN-FW21J, VGN-FW21L, VGN-FW21M, VGN-FW21MR, VGN-FW21SR, VGN-FW21Z, VGN-FW21ZR, VGN-FW3, VGN-FW31E, VGN-FW31J, VGN-FW31M, VGN-FW31ZJ, VGN-FW32J, VGN-FW4, VGN-FW41E/H, VGN-FW41E/W, VGN-FW41ET/H, VGN-FW41J/H, VGN-FW41M/H, VGN-FW41MR/H, VGN-FW41ZJ/H, VGN-FW44MR, VGN-FW46M, VGN-FW46S, VGN-FW46Z, VGN-FW48E/H, VGN-FW4ZRJ/H, VGN-FW4ZTJ/H, VGN-FW5, VGN-FW51JF/H, VGN-FW51MF/H, VGN-FW51ZF/H, VGN-FW54E, VGN-FW54J, VGN-FW54M, VGN-FW54MR, VGN-FW54S, VGN-FW56E, VGN-FW56J, VGN-FW56M, VGN-FW56SR, VGN-FW56Z, VGN-FW56ZR, VGN-FW5ERF/H, VGN-FW5JTF/H, VGN-FW5MTF/H, VGN-FW5ZRF/H and VGN-FW5ZTF/H notebook models.
At Creative IT, we strive to help you with practical and economic hardware as well as software solutions that are tailored to meet your specific needs. So call us today itself on 020 7237 6805 to let us know your laptop issues and see how our team can optimize and ensure the perfect, speedy performance of your existing laptop. You can also send us your queries on our expert London Sony VGN-FW series repair, upgrade, and replacement services to info@creativeit.net.