IBM ThinkPad Z60 Series repair company
Creative IT provides specialised IBM ThinkPad Z60 Series repair services from its London based computer repair centre.
IBM's ThinkPad line was launched in 1992. The line is well known for its reliability, strong build and quality design. The ThinkPad Z60 series laptops, which includes the Z60m, Z60t, Z61e, Z61m, Z61p and Z61t models, are equipped with 14.i inch (on the Z60t for example) or 15.4 inch LCD screens to allow gaming and a dedicated ATI X600 graphics card which is what's on the Z60m.
Support, maintenance, upgrade and repairs for IBM ThinkPad Z60
Creative IT has the ability to obtain IBM parts for the ThinkPad Z60 laptops and repair them fast. We also offer optimisation and upgrade services to get the laptop running at optimum speed. There are various ways to upgrade a laptop either by installing a larger hard drive or by increasing the amount of memory which will give an overall better performance.
There are some known issues with the ATI graphics card found on the IBM ThinkPad Z60 motherboard. Symptoms include lines showing on the screen or a complete back screen. Creative IT's technicians are skilled in component level repairs and carry out reflows on the laptop motherboard.
Other IBM/Lenovo notebook repair services we offer include: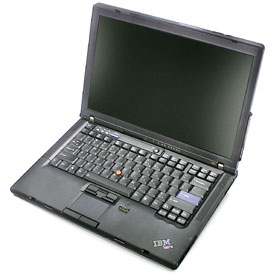 IBM ThinkPad Z60 Series LCD screen replacement
IBM ThinkPad Z60 Series keyboard replacement
IBM ThinkPad Z60 Series hard drive replacement and upgrade
IBM ThinkPad Z60 Series memory upgrade
IBM ThinkPad Z60 Series hinges replacement 
IBM ThinkPad Z60 Series top and bottom assembly replacement 
IBM ThinkPad Z60 Series Windows installation
IBM ThinkPad Z60 Series virus removal
IBM ThinkPad Z60 Series malware or spyware removal
IBM ThinkPad Z60 Series data recovery
How to get a ThinkPad Z60 IBM repair ?
If your IBM ThinkPad is in need of an urgent repair, Creative IT provides a walk-in service six days a week from 0900 until 1800. All Lenovo / IBM laptop repairs are carried out on a same day basis. Our laptop technicians in London will troubleshoot all hardware and software faults while you wait. For IBM ThinkPad repairs outside London, customers can get their laptop collected within 24 hours and delivered immediately after the repair is completed.
Customers who would like to carry out their own repairs can order their IBM ThinkPad Z60 parts also from Creative IT: parts include IBM ThinkPad hard drives, IBM ThinkPad batteries, IBM ThinkPad power supplies, IBM ThinkPad motherboards, IBM ThinkPad keyboards and IBM ThinkPad LCD replacements.
For more information about Lenovo/IBM ThinkPad repair services or other IBM repairs and support provided by Creative IT, customers can call 020 7237 6805 or email info@creativeit.net.