IBM ThinkPad X60 Series laptop repair
At Creative IT, we can understand how frustrating in can be when your IBM ThinkPad X60 series laptop crashes, files get corrupted, or when your laptop's motherboard suddenly dies. Are you experiencing one of the following issues with your IBM ThinkPad X60: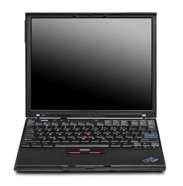 Is your IBM ThinkPad X60 laptop's DC power jack loose or broken?
Have you lost your critical files from your laptop?
Do you want to upgrade or replace your IBM ThinkPad X60 series laptop's defective parts?
Are you not satisfied with the perfomance of your IBM ThinkPad X60 laptop?
Then Creative IT can offer you the most eficient, fast and cost effective solutions for your IBM ThinkPad X60 series laptop. All our technicians have had more that 25 years of hands-on experience in fixing and troubleshooting all kinds of laptop related issues. Furthermore, we can provide you upgrade and replacement services that are second to none in terms of speed, reliability, quality and cost effectivness.Check out some of the services that our team of technicians can provide for your IBM ThinkPad X60 series laptop:
Windows Vista installation
Windows XP installation
Motherboard repairs
LCD screen replacement
LCD backlight and hinge repair
LED screen replacement
Graphics card repair and upgrade
DC power jack repair and replacement
Trojan, Spyware and Virus removal
Antivirus installation
Memory (RAM) upgrade
Hard drive and upgrade replacement
Data Recovery
Windows 7 installation
IBM ThinkPad X60 Series laptop specifications
This IBM laptop series has just two models and their associated Tablet series from Lenovo. The first model is the IBM ThinkPad x0 and the second is the IBM ThinkPad X61. This is the first IBM series that features the Intel Core Architecture. These models rely on a low voltage version CPU called Core Duo L2400. These models have a battery life of 6 to 10 hours.
We offer you all the above services and many more for all models of the IBM ThinkPad X60 series including IBM ThinkPad X60 and IBM ThinkPad X61.
Our repair services are very quick, and we undertake all London IBM ThinkPad X60 series repair and upgrade services for an affordable flat rate. If you have difficulty in personally bringing in your defective laptop to our Central London offices, we can organise a secure courier to pick up your laptop. We always offer quick turnaround times.
Whatever be your laptop problems, pick-up the phone and give us a call on 020 7237 6805 to let us know your laptop issues and see how our technicians identify and repair your laptop. Queries on our expert London IBM ThinkPad X60 series repair, upgrade and replacement services can also be forwarded to info@creativeit.net.