IBM ThinkPad X20 Series Laptop Repair
Creative IT is one of the leading IBM support and maintenance centre in London. Our services include a dedicated IBM ThinkPad X20 series laptop repair solutions for all UK based customers.
The IBM ThinkPad X20 series laptop were all sub 1.8 kg(lbs) machines. They relied on Pentium M CPU ranging from 500MHz to 1.13 GHz to work. They had a 310mm(12.1") XGA screen, and a Radeon Mobility M1 or M6 asa graphic chip.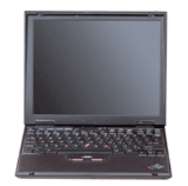 Welcome to Creative IT - the best service provider for your IBM ThinkPad X20 Series laptop repair and upgrade requirements in the UK. We are nationwide IBM laptop repair centre that has been working in the industry for more that 25 years, during which we have provided top quality services for both residential and business clients. Thanks to our experience and to our team of highly qualified technicians, we are able to offer our clientele 100% guaranteed satisfaction. On receipt of your laptop, our technicians use cutting edge technology to troubleshoot all of your IBM ThinkPad X20 series laptop's problems and offer you the most competitive repair estimate. Once you approve the estimate, we are most likely to fix and deliver your laptop the very same day. Altough if your IBM ThinkPad X20 series laptop is going to require a more advanced repair or the replacement of a component that we don't already have in our genuine IBM spare parts inventory, we will fix your laptop and have it sent to you the very next day.
Our large inventory of IBM laptop parts includes hard drives, motherboards, LCD screens, graphic processors and memory with which we can also provide the best and most cost effective upgrade and replacement services for your IBM ThinkPad X20 series laptop We can increase its perfomance and functionality and help you enjoy the latest music files, high definition games and most advanced business applications.
We will provide all our top quality services for all models of the IBM ThinkPad X20 series, including IBM ThinkPad X20, IBM ThinkPad X21, IBM ThinkPad X22, IBM ThinkPad X23, IBM ThinkPad X24.
Below is a list of highly reliable services we can provide for your IBM ThinkPad X20 series laptop:
Keyboard repair and replacement
Touchpad repair and replacement
Virus and Malware removal
Antivirus installation
Data recovery and back-up
LCD backlight and inverter repair / replacement
LCD screen replacement
Hinge repair and replacement
Power supply repair
DC power jack repair and replacement
Component level repair
Motherboard replacement
If you find it incovenient to bring your IBM ThinkPad X20 series laptop to our repair services, we will make all necessary arrangements to pick up your laptop from your home or office, repair it at our state of the art repair centre and have it sent back to you through highly trustable delivery services.
Request a competitive quote for our specialist London IBM ThinkPad X20 series repair and upgrade services by contacting us on 020 7237 6805. We are open Monday through Saturday from 09:00 to 18:00 hrs. You can also take advantage of our live chat facility or email address: info@creativeit.net to check out more details of the services that we offer.