IBM ThinkPad W Series repair
Creative IT provides fast and reliable solutions for all IBM ThinkPad W Series repairs.
Whether your IBM ThinkPad W series laptop has hardware of software issues, our fast and proficient team of technicians and engineers will offer you the highest quality and the most cost effective IBM ThinkPad W700 r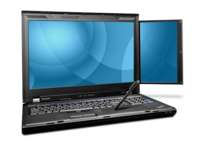 epair services in the UK. Our repair centre is located in Central London, but we provide nationwide top quality services to both residential and business customers. Our clientele takes advantage of our over 25 years of experience and hard work in the industry. Thanks to our experienced team, we can complete all kinds of repair work within just a day or two. We complete almost all repair jobs the very same day. Only if your IBM ThinkPad W series laptop is going to require the replacement of a component that we don't already have in our large inventory of genuine IBM ThinkPad W series components, the repair or upgrade job may be finished the next day. Just come to our Central London repair centre and we will fix your IBM ThinkPad W series laptop in no time.
We offer our clientele the most cost effective solutions in the UK, without ever compromising the quality of our services. Are you worried about a distorted image or blank screen as a result of graphics chip failure or component level issues? Then just hand over your out of order laptop to us. We also customise services to meet your unique IT requirements by providing you with outstanding upgrade and replacement services. Below are just some of the high quality services that Creative IT can provide for your IBM ThinkPad W series laptop:
Hard drive upgrade and replacement
DC power jack replacement
CD / DVD ROM replacement
Laptop tune-up
Windows Vista installation
Windows 7 installation
Windows XP installation
Virus, spyware and malware removal
Operating system troubleshooting and installation
Data recovery and migration
Power supply repair
LCD backlight repair
Hardware troubleshooting and repair
Software troubleshooting and repair
Component level repair
Laptop screen repair
We offer all these services and many more for all models of the
IBM ThinkPad W
series including IBM ThinkPad W500 and IBM ThinkPad W700.
You can pick up the phone anytime between 09:00 and 18:00 hrs from Monday through Saturday to give us a call on 020 7237 6805 and speak to one of our expert technicians to know more about our London IBM ThinkPad W series repair, upgrade and replacement services. You can also send us an email to info@creativeit.net .