IBM ThinkPad T400s Series laptop repair
Creative IT provides same day IBM ThinkPad T400s Series laptop repair services in London and all over the UK.
The Thinkpad T400s is the high-end model of T400. The T400s is by far the thinest and lightest laptop in the IBM ThinkPad 400 series.
Does your IBM ThinkPad 400s series laptop have any issues? Regardless of what issues your laptop has, either minor or complex, Creative IT is the best company for you. We provide highly reliable and cost effective in-store IBM ThinkPad 400s Series repair services, without any errors or delays. Does your IBM ThinkPad 400s series laptop have one of the following issues?: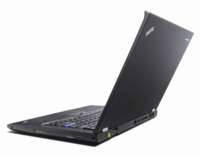 Broken or cracked LCD that needs replacement
Blue screen of death errors
Recent massive virus, adware or spyware attack
Inability to power on
Networking issues
Broken or dirty keyboard that doesn't function properly
Broken or corrupted hard disk data
Broken CD or DVD writer
We can provide you with top quality repair services for your IBM ThinkPad 400s Series laptop regardless of what problems your laptop has. But we won't stop there. We can also provide with high quality and cost effective upgrade and component replacement solutions for your IBM ThinkPad 400s Series laptop. Our team of proficient engineers and technicians can offer you all the following services and many more:
Graphics card upgrade and replacement
Keyboard / Touchpad repair and replacement
DC power jack repair and replacement
LCD backlight and inverter replacement
Laptop display hinge replacement
Trojan and Spyware removal
Laptop computer tune-up
Fixing Internet and networking issues
Blue screen of death repair
Motherboard repair and replacement
RAM and hard drive upgrade
LCD screen replacement
We can professionally fix distorted video, random characters or blank screen issues due to failure of the graphics chip. Centrally located in London, we have served thousands of residential and business customers, during our long career spanning over 25 years. With an exceptional work team that includes data recovery specialists, hardware engineers, and expert technicians, we can take care of your entire London IBM ThinkPad 400s series repair and upgrade requirements.
So drop in our courier your defective IBM ThinkPad 400s Series laptop to our repair center or we can even arrange to have your laptop picked up from your home or office location and accordingly return it back to you when the repair work is completed. Contact us today on 020 7237 6805 or email us at info@creativeit.net to obtain more information on our top quality, same day London IBM ThinkPad 400s services.