IBM ThinkPad T40 Repair
Creative IT is the best, fastest and cheapest IBM computer and laptop repair center in London. From our London offices equipped with the latest IT technology, our highly skilled technicians can repair all software and hardware faults and carry out component level repairs on IBM ThinkPad T40 series laptops.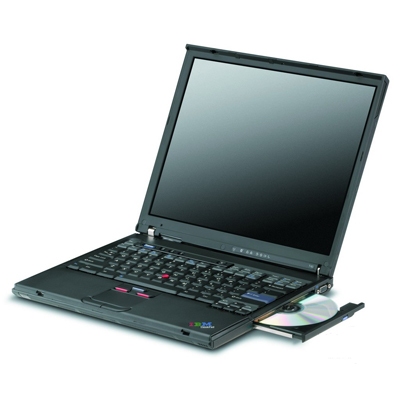 These laptops have hard drive sizes ranging from 30 GB all the way up to 100GB and LCD screens measuring either 14.1 inch or 15 inch.The IBM ThinkPad T40 series includes eight models: T40, T41, T42 and T43 and their associate tablet series T40p,T41p,T42p and T43p.
If you are the owner of a ThinkPad T40 series out of warranty and if you suspect something is wrong with the laptop, you can trust Creative IT to find the perfect solution for your problems. From LCD screens and hard drive replacements to fan cleansing and keyboard replacements, Creative IT provides same day IBM ThinkPad T40 series repairs in London.
Common faults affecting IBM ThinkPad T40 Series
One of the most common faults affecting laptops after over 18 months is display problem linked to overheating. Creative IT has invested in a high quality infra-red BGA rework station with camera which is the perfect answer to graphics card problems. Once our technicians have troubleshot the fault on the ThinkPad T40, they will perform a reflow on the graphic chip to resolder properly on the motherboard. The repair only takes an hour or two and carries a 90 days warranty.
Hard drives are very sensitive components of a laptop and they are more likely to fail when they are moved around. Creative IT is equipped with an anti-static clean room for IBM ThinkPad T40 series data recovery. Hard drives failures can often be diagnosed when laptop starts making clicking noises. If the data hasn't been backed up on a regular basis, a data file recovery will have to take place. The files retrieved will then be saved on a storage device such as an external hard drive, an USB device or DVD.
Same day IBM ThinkPad T40 Series in London
Creative IT has a large stock inventory of IBM parts, allowing its technicians to carry out fast repairs, upgrades and component replacements. IBM laptop LCD screens, IBM laptop keyboards, IBM laptop hard drives, IBM laptop CD/DVD drives, IBM laptop backlights, IBM laptop inverters and IBM laptop motherboards can all be ordered from Creative IT.
Our laptop PC and computer maintenance and support center is open Monday to Saturday from 09:00 until 18:00 and can be accessed without making an appointment. For more information, call our helpline today on 020 7237 6805 or drop us a line at info@creativeit.net Free live support is also available on this website.