IBM ThinkPad S30 and S31 laptop repair
Located in the heart of London, Creative IT offers high quality IBM laptop repair services to all types of customers,  both residential and business clients, all over the UK,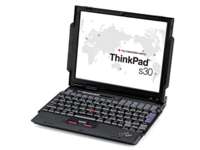 Due to our almost two decades of experience in the industry, we will can only provide you the best IBM ThinkPad S30 and S31 series laptop repair and upgrade services in the UK. Here at Creative IT, our key mission is to provide our clientele with cost effective solutions as well as unmatched customer service. All our IBM ThinkPad S30 and S31 service  technicians are highly skilled and experienced professionals. Hence, we are able to troubleshoot and repair all your IBM ThinkPad S30 or S31 laptop's problems. Does your IBM ThinkPad S30 or S31 series laptop have one of these problems? Then all you have to do is to take advantage of our state of the art IBM ThinkPad S30 or S31 laptop repair services:
Laptop running slow
Blue screen of death
Virus / Spyware issues
Programs closing unexpectedly
Internet / email issues
Accidental deletion of important files
Broken LCD screen
Dim or black screen
We offer a great number of services for your IBM ThinkPad S30 and S31
DC power jack repair
LCD screen replacement
Memory and hard drive upgrade
Processor replacement
Software upgrade
Data recovery and back up
Removal of spyware and virus
Laptop tune-up
Windows Vista installation
Windows 7 installation
Windows XP installation
Operating system troubleshooting and installation
Data recovery and migration
Power supply repair
LCD backlight repair
Do you feel that Creative IT is the right choice for your IBM ThinkPad S30 or S31 series laptop repair? Then don't delay; pick up your phone and call us on 020 7237 6805. We are available every day except for Sunday from 09:00 to 18:00 hrs. We also get back to queries send through info@creativeit.net. We provide fast turnaround services, and provide same day services to London clients.