IBM ThinkPad R50 Series repair
Creative IT provides specialized IBM laptop repair and support when you're in need of an urgent IBM ThinkPad R50 series repair. We can help you deal with any technical faults including hardware and software r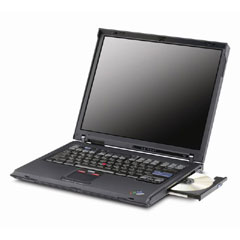 elated issues. Our IT technicians, who have an extensive knowledge of electronics, can perform highly specialized component level repairs including IBM motherboard repairs.
IBM ThinkPad R50 Series specifications
When IBM launched its ThinkPad R50-series laptops in 2003, they based their engineering on theT40-series models. These laptops feature a 15 inch XGA screen while 14.1 inch R50 laptops are also available. A Radeon 7500 Mobility graphics is integrated on the motherboard and has 32MB of RAM.
The R50 range of laptops includes the R50, R50e, R50p, R51, R51e and R52 models. This series of laptops uses components found in T40-series models such as batteries, keyboards and system boards along with a fingerprint reader.
IBM/Lenovo laptops have always been recognised for their reliability and the IBM ThinkPad R50 is no exception to the rule. But, like with any other laptops, there may be times when a specialist computer support company is required to help with some common faults affecting the IBM ThinkPad R50.
IBM ThinkPad R50 services offered by Creative IT
Creative IT is equipped with the latest technology including an infra-red BGA rework station with a camera suitable for durable Radeon 7500 graphics card repairs. A typical graphic card repair takes from one to two hours including troubleshooting the fault, repairing it and testing the ThinkPad when the reflow is completed
Although the ThinkPad R50 is well known for having one of the highest quality laptop keyboards on the market, liquid damage or too much dirt under the keys can prevent its keyboard from working properly.Creative IT provides ThinkPad R50 keyboard and Touchpad cleansing, repair and replacement services.
Creative IT is also specialized in laptop data recovery. In our anti-static clean room, we can retrieve loss data from a damaged or failing IBM ThinkPad R50 hard drive. We have a large stock inventory of IBM spare parts which allows us to replace the hard drive in the laptop and reinstall all the programmes straight away.
Other IBM repair services provided by Creative IT include:
IBM ThinkPad R50 15 inch LCD screen repair and replacement
IBM ThinkPad R50 14.1 inch LCD screen repair and replacement
IBM ThinkPad R50 backlight repair
IBM ThinkPad R50 inverter repair
IBM ThinkPad R50 motherboard repair
IBM ThinkPad R50 power jack repair and replacement
IBM ThinkPad R50 power supply repair and replacement
IBM ThinkPad R50 fan repair and replacement
IBM ThinkPad R50 memory RAM upgrade
How to get a IBM ThinkPad R50 laptop repair?
Creative IT is open six days a week, Monday to Saturday from 0900 until 1800. All IBM ThinkPad R50 repairs are carried out without appointment as part of our walk-in service. IBM laptop repairs and troubleshooting are part of our expertise in all laptop and PC repair, maintenance, support and upgrade services. We are conveniently located in London SE1, outside the Congestion Charge, and have access to free parking spaces.
Customers located outside London can send their IBM laptop to our computer repair center or get it collected from their home or offices within 24 hours. Our technicians will keep them updated on the diagnostics and on the progress of the repair on a regular basis and will return the laptop promptly once the repair is completed.You can email us on info@creativeit.net or call us on 020 7237 6805.