IBM ThinkPad 500 series laptop repair centre
For more than a decade, Creative IT has been one of the UK's leading IT service providers. If you are looking for the best way to get your IBM ThinkPad 500 series laptop back into perfect working order, Creative IT can offer you the fastest, cheapest and highest quality repair solutions.
Creative IT provides IBM computer and laptop repair and maintenance services to both corporate and residential users in London and all over England, Scotland, Wales and Ireland. We carry out hardware and software related faults and have the expertise and equipment necessary for component level laptop repairs.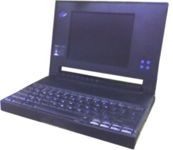 Information about the IBM ThinkPad 500 laptop series
The IBM ThinkPad 500 series laptops were the most important line of IBM ultraportables. They first came out with a 486SX 50 Blue Lightning and went all the way up to Pentium III 500. They had a single hard disk onboard and all other drives were of external use (or ultrabase for the 570's). They weighed about 1.8kg (4lbs) and most of them are still being used today thanks to their excellent design. The IBM ThinkPad 500 series includes the ThinkPad 500, ThinkPad 510, ThinkPad 560 E, ThinkPad 560X, ThinkPad 560 and ThinkPad 570E sub-series.
Choose Creative IT as your service provider and you can rest assured that only the most skilled and experienced specialists in the industry will cater to your IBM ThinkPad 500 series laptop's repair and upgrade requirements. And if you are thinking of replacing your IBM with an expensive new laptop, Creative IT can offer you a better alternative. Take advantage of our expert same day IBM laptop upgrade and component replacement services and you will save on buying an expensive new laptop.
Same day London IBM ThinkPad 500 repair services
Creative IT offers you a wide range of
IBM ThinkPad 500
series laptop repair and upgrade services, which includes:
Resolving laptop freezing or crashing issues
Virus and Spyware removal
Dead or defective motherboard repair and replacement
Fixing login issues and blue screen of death
Antivirus software installation
Hard drive upgrade
Touchpad repair and replacement
Keyboard repair and replacement
CD / DVD drive repair and replacement
Memory upgrade
Keyboard cleansing
LCD screen replacement and repair
Power connector repair and replacement
Data recovery and back up
Come to our Central London computer repair centre and make the most of our same repair repair service. Alternatively, if you are unable to come in person, we can offer fast and reliable courier services for your IBM ThinkPad laptop.
Call 020 7237 6805 or drop a line at info@creativeit.net for advice, support and any hardware and software related IBM ThinkPad 500 series repairs you may need. Our walk-in service is available Monday to Saturday from 0900 until 1800.