HP Laptop Motherboard Repair
When your HP laptop's motherboard is defective, it may exhibit several problems such as:
Laptop failing to boot although power is on
Laptop becoming unstable
Laptop randomly shutting down while working on it
Laptop getting locked up
Does your HP laptop display any of these problems? Then bring it to us; we can help you with professional HP laptop motherboard repair services.
Know more about us!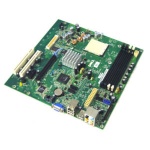 Established in 1994, Creative IT is a nationwide HP laptop repair centre strategically located in Central London. Among many of the services that we offer at Creative IT is HP laptop motherboard repair services. From thoroughly reviewing your laptop in order to troubleshoot its problems to repairing and ensuring its perfect condition, we undertake a wide range of services for motherboard repair, with an exceptional team of experienced component level engineers and trained technicians. We carry out laptop motherboard repair for all HP Envy, HP TouchSmart, HP Pavilion, HP Mini, HP ProBook and HP EliteBook notebook models.
Motherboard Replacement Services
If your laptop's motherboard cannot be repaired, we can help you with excellent HP laptop motherboard replacement services, as we have a comprehensive range of laptop spare parts to suit every HP laptop model.
Service Charge
The rates start from £135 plus vat for repairing a faulty HP laptop motherboard.
Turnaround Time
After reviewing the complexities of the motherboard, we usually offer same day or next day HP laptop motherboard repair services.
Warranty
A three month warranty is provided for every HP laptop repair service as well as new parts supplied. All warranties are back to base.
Contact Us
If you have any question or want to receive a competitive quote on our professional London HP laptop motherboard repair and replacement services, you can dial us on 020 7237 6805 or email us at info@creativeit.net Our customer service helpline is open Monday through Saturday from 09:00 to 18:00 hrs. 
HP Notebook PC
HP Omnibook Notebook Series
HP ProBook Notebook Series
HP Special Edition Notebook
HP Touchsmart Notebook Series
HP Rugged Notebook Series
Voodoo Notebook Series
HP EliteBook Series
HP 500 Notebook Series
HP Compaq Series
HP ENVY
HP G Notebook Series
HP HDX Notebook Series