HP Compaq 6200 Series laptop repair
If you are experiencing any issues with your HP Compaq 6200 series laptop, then you must probably be looking for the best HP laptop service provider in the UK. You may now stop looking. You have just found it. Ever since 1994, Creative IT has been providing its esteemed clientele with nationwide top quality and cost effective HP laptop repair, upgrade and component replacement solutions. If your HP Compaq 6200 series laptop has any issues, regardless of what they are, Creative IT can troubleshoot them and fix them all in no time. Let it be hardware problems or software related issues, our expert work team of highly skilled HP laptop service engineers and technicians, who have more than 15 years of hands on experience in diagnosing and fixing all kinds of HP laptop related issues, can solve all your laptop related problems today!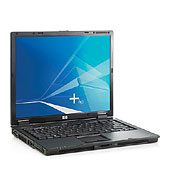 We complete almost all repair jobs the very same day! It is highly unlikely that it would take us more than one day to fix your defective HP Compaq 6200 series laptop. Only if your laptop's repair requirements include the replacement of a component that we do not already have in our large inventory of genuine HP spare parts or if your laptop's repair requirements include a highly advanced component level repair, we will fix your laptop and have it sent back to you the next day!
A complete service package for your HP Compaq 6200
We offer you a complete service package for you HP Compaq 6200 series laptop, including:
LCD Screen repair and replacement
Windows Repair
Password Removal
Virus and spyware Removal
Internet connection
Data backup
DVD-RW Replacement
Keyboard Replacement
Hard disk replacement and hard
Motherboard repair and replacement
AC Adaptor Repair
CD-ROM Replacement
DVD-ROM Replacement
CD-RW Replacement
Disk upgrade
LCD LED replacement
Data Recovery
Keyboard cleansing and replacement
Our professional services are just a phone call away!
It doesn't matter what issues your experiencing with your laptop. We can fix them all for you today! And if you find it troubling to carry your defective HP Compaq 6200 series laptop to our Central London repair centre, we will arrange for top quality pick up and delivery services.
If you want to find out more about Creative IT and what we can do for you, just give us a call on 020 7237 6805 or mail us at info@creativeit.net Monday through Saturday, from 09:00 to 18:00 hrs and we will offer you all the details you want.