HP Compaq 2700 Series laptop repair
Is your HP Compaq 2700 series laptop not performing according to your expectations and needs? Do you get pop up error messages on your laptop? Do your get blue screen of death errors on your laptop? Is your laptop running slow? Creative IT has been the leading HP laptop repair, upgrade and component replacement service provider in the UK for than 15 years. So if you are experiencing any issues with your HP Compaq 2700 Creative IT can diagnose and fix all your laptop's problems for you.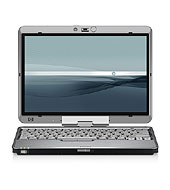 For more than 15 years, our team of highly skilled professionals has been offering top quality and cost effective laptop repair, upgrade and component replacement solutions to both home users and corporate clients. Thanks to our high end service equipment and to our more than 15 years of experience, we diagnose and fix all of your HP Compaq 2700 series laptop immediately.
And we can offer you a lot more than just HP laptop repair services. Thanks to our team of industry professionals and to our large inventory of genuine HP spare parts, we can offer you high quality laptop upgrade and component replacement services. So if you were thinking of buying an expensive new laptop to replace your HP Compaq 2700 series, we can offer you a cheaper, faster and better alternative. Below are just some of the services we offer as part of our London HP Compaq 2700 series repair, upgrade and component replacement services:
Laptop LCD screen and keyboard replacement
DC power jack repair and replacement
CD / DVD ROM repair and replacement
Motherboard repair and replacement
Virus, spyware and malware removal
Battery replacement
LCD backlight and inverter replacement
Hard disk upgrade and replacement
Data restoration and migration
Display hinge repair and replacement
Keyboard cleansing and replacement
Fan repair and replacement
Setting up protection against virus attacks
You can either choose to bring your defective HP Compaq 2700 series to our Central London repair centre or we can offer you top quality pick up and delivery services for your laptop. We will fix your laptop and have it sent back to your doorsteps or to your office in no time!
Give us a call on 020 7237 6805 or email us at info@creativeit.net and schedule an appointment with our team of experts. We are open Monday through Saturday, from 09:00 to 18:00 hrs.