Fujitsu LIFEBOOK S Series Repair
Is your Fujitsu LIFEBOOK S Series laptop not working properly? Creative IT can help you out. With over 15 years of industry experience, we are one of the most prominent
Fujitsu LIFEBOOK S series repair
centre in Central London. With technical expertise, we provide personal attention and commitment to all our customers, both individual users and business organizations all over the UK.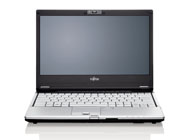 Revival is possible if your laptop suffers from virus corruption, operating system failure, graphics issues, dead motherboard, memory error or physical damage to your hard disk. Our team can provide a comprehensive solution for all software and hardware issues. Here are some of the Fujitsu LIFEBOOK S series repair services that we offer for LIFEBOOK S2110, LIFEBOOK S4510, LIFEBOOK S4542, LIFEBOOK S4546, LIFEBOOK S4572, LIFEBOOK S5582, LIFEBOOK S5586, LIFEBOOK S6010, LIFEBOOK S6120, LIFEBOOK S6120D, LIFEBOOK S6410, LIFEBOOK S6420, LIFEBOOK S6520, LIFEBOOK S7010, LIFEBOOK S7020, LIFEBOOK S710, LIFEBOOK S7110, LIFEBOOK S7210, LIFEBOOK S7220 and LIFEBOOK S760 notebook models:
Adware / Spyware / Virus removal
Installation and upgrade of operating system
LCD inverter repair and replacement
LCD backlight repair and replacement
Power supply repair and replacement  
LCD screen repair and replacement
Motherboard repair and replacement
Touchpad repair and replacement
Data recovery and data back up
Correcting component level problems
Resolving Internet and Email issues  
At Creative IT, we take pride in offering the best service time, as quick as same day in most cases, although our average turnaround time is 24 to 48hrs. We charge only a flat fee to fix your Fujitsu LIFEBOOK laptop. If any part of your laptop needs to be replaced, we have a good selection of genuine spare parts. Further, we can provide a pickup and delivery service for your laptop.
If you want to know more about our London Fujitsu LIFEBOOK S series repair, upgrade and replacement services, just get in touch with us on 020 7237 6805 or email us at info@creativeit.net . We are here to help you from Monday to Saturday from 09:00 to 18:00 hrs.