Fujitsu LIFEBOOK Q Series Repair
When you decide on Creative IT for your
Fujitsu LIFEBOOK Q series repair
services, you can be assured that your LIFEBOOK Q2010 laptop is in capable hands and your repair requirements will be catered to by highly dedicated and experienced engineers and technicians. At Creative IT, our first priority is customer satisfaction, and our sole mission is to get the job done right at competitive rates at fast turnaround time. From its modest beginning in 1994 to serve the clients in London, Creative IT has now grown to become one of the most leading Fujitsu laptop repair centres in the UK and has managed to put together a list of distinguished clients that cover residential users, small and medium business organizations, and large corporate clients.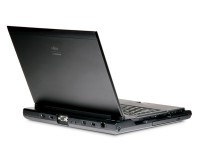 Booting issues; sluggish performance; malware or virus attacks; data loss situation or software issues? Our team of professional engineers, technicians, and data recovery specialists can help you with exceptional Fujitsu LIFEBOOK Q2010 repair and upgrade services. Do you want to boost the performance of your laptop by giving it some extra life? Then try out our upgrade services that are second to none. We repair most of the laptop issues the very same day of its receipt and occasionally the next day. We can also have your laptop picked up from your home or office for the necessary repair and upgrade.
Listed below is an overview of our Fujitsu LIFEBOOK Q series repair services.
Motherboard repair and replacement
Memory and hard drive upgrade
Processor and video card upgrade
LCD backlight and inverter replacement
Laptop battery replacement
Data recovery and migration
Adware and malware removal
System clean-up
Broken LCD screen replacement
DC power jack repair and replacement
stop by our repair centre to have a look at the way our technicians clear your doubts and undertake your LIFEBOOK Q2010 laptop repair and upgrade job or simply dial us on
020 7237 6805
to obtain more information on our London
Fujitsu LIFEBOOK Q series repair
, upgrade and replacement services. You can also email us at
info@creativeit.net
if you have any query on our Fujitsu laptop repair services.