Fujitsu LIFEBOOK E Series Repair
Welcome to Creative IT - a name that you can count on for your Fujitsu LIFEBOOK E series repair services. At Creative IT, we combine our technical proficiency with hands on experience of more than a decade to provide you with an economic, reliable, and first-class Fujitsu laptop repair solutions. Set in a highly protected as well as scalable environment, we guarantee the success of almost all laptop repair works that we undertake. Since its inception in 1994, our mission has always been to make available exceptional laptop repair solutions at best possible rates. Our turnaround time is quicker than most of our competitors, and sometimes we will have you up and running in just few hours.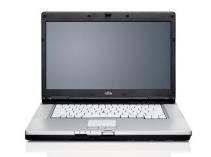 Whether it is simple PC tune up, power jack repair, or complicated component level repair, we will have you covered! Prior to starting any kind of repair work, we ensure that your defective laptop is thoroughly diagnosed, which include complete software and hardware troubleshooting. Then we will send you a competitive repair estimate for your approval. If you need laptop upgrade, along with the repair services, we can help, as we have a comprehensive range of laptop spare parts in our stock line.
The services, among many others, that we specialize in for your
Fujitsu LIFEBOOK E series repair
requirements for LIFEBOOK E2010, E4010, E4010D, E5320, E6150, E6170, E6180, E6520, E6530, E6540, E6550, E6560, E6570, E6575, E6585, E6595, E6624, E6634, E6644, E6646, E7010, E780, E8010, E8010D, E8020, E8020D, E8110, E8210, E8310, E8410 and E8420 notebook models include:
Motherboard repair and replacement
LCD screen replacement
Hard drive upgrade and replacement
Malware and virus removal
Data recovery and back up
DC power jack repair and replacement
 Memory (RAM) upgrade
CD / DVD drive replacement
So call us today itself on
020 7237 6805
and get your Fujitsu laptop issues solved quickly! If you have any question on our London
Fujitsu LIFEBOOK E series repair
, upgrade and replacement services you can also send us an email to
info@creativeit.net
. Our professional laptop repair and upgrade services are available six days a week from 09:00 to 18:00 hrs. If you need assistance to bring your laptop to our repair centre, just give us a ring and we can help you with both secure pick up and drop off services.