Acer Ferrari Laptop Repair
Welcome to the most trusted Acer Ferrari laptop repair centre in London. For almost 15 years, our entire operation has been focused on laptop repair and upgrade services and that too at a highly affordable rate and at quick turnaround time. 100% customer satisfaction has always been our top priority.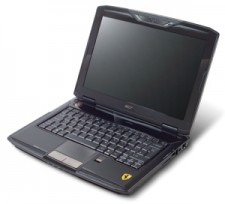 Our extraordinary team makes us the leader in the industry. We have some of the most skilled engineers and technicians who can handle and repair almost any model of the Acer Ferrari series including 1000, 1100, 1200, 3000, 3200, 3400, 4000 and 5000 notebook models. Creative IT offers all kinds of Acer laptop repair and upgrade services to our regular customers, educational institutions as well as business organisations. We can also supply good quality genuine spare parts. As part of our specialist London Acer Ferrari laptop repair and upgrade service, we offer
Installation of software and operating system
Spyware and Virus removal and installation of latest antivirus
Hard drive data recovery
Correcting component level problems
Laptop screen repair and replacement
LCD backlight repair and replacement
RAM (memory) upgrade and replacement
Hard drive upgrade and replacement
CD-ROM / DVD-ROM replacement
Repair of power socket and other power supply issues
Display hinge repair and replacement
Touchpad repair and replacement
Keyboard repair and replacement
Motherboard repair and replacement 
Whatever are your requirements, we have the capability to fulfil them in a professional and timely manner. Mostly we offer same day London Acer Ferrari laptop repair, upgrade and replacement services to our customers. Depending on your needs, we can also arrange a secure laptop pick-up and delivery service. 
Please feel free to call us on 020 7237 6805 to discuss your requirements. We are open from Monday to Saturday from 09:00 to 18:00 hrs. You can also send your queries to info@creativeit.net .